A dakimakura is a type of long, hug pillow from Japan, often used for hugging and sleeping. The word "dakimakura" literally means "hug pillow" in Japanese. These pillows typically feature an illustration of a popular anime or game character, and are often marketed towards fans of anime, manga, and video games as a way to bring a favorite character to bed. Some people also use them as decorative items or to add comfort to their sleeping arrangements.
Have you ever considered sleeping with your beloved game character from Genshin Impact? I am thinking of buying a Genshin Impact body pillow but don't know how to choose. Let me introduce you to the categories, sizes, materials, and prices of Genshin Impact life-sized body pillows.
Types of Genshin Impact Body Pillow
The body pillow with hole is a special type of sexual body pillow, called the Dakimakura Onahole, which is divided into two types: Double Layer and Split Legs.
You can remove the waifu's pillowcase, and there is a hole in the middle of the pillow where you can install an Onahole.
The pillow core can be separated and shaped like double legs, and there is also a hole in the middle. There are three types of pillow cores: PP Cotton, Inflatable Pillow Bent Legs, and Inflatable Straight Legs.
You can match the body pillow with hole with accessories such as Onahole, Oppai, and Butt to give you a different sexual experience!
The size of the Genshin Body Pillow
Now, we have 8 different sizes for our Genshin Dakimakura, which are:
4×12 cm, 45×45 cm, 34×100 cm, 40×120 cm, 50×150 cm, 50×160 cm, 60×170 cm, 60×180 cm.
The dakimakura pillow 150 x 50 is the best choice, this size is usually used for custom made pillows for pillow enthusiasts, it is not only suitable for sleeping but also for decorating the room.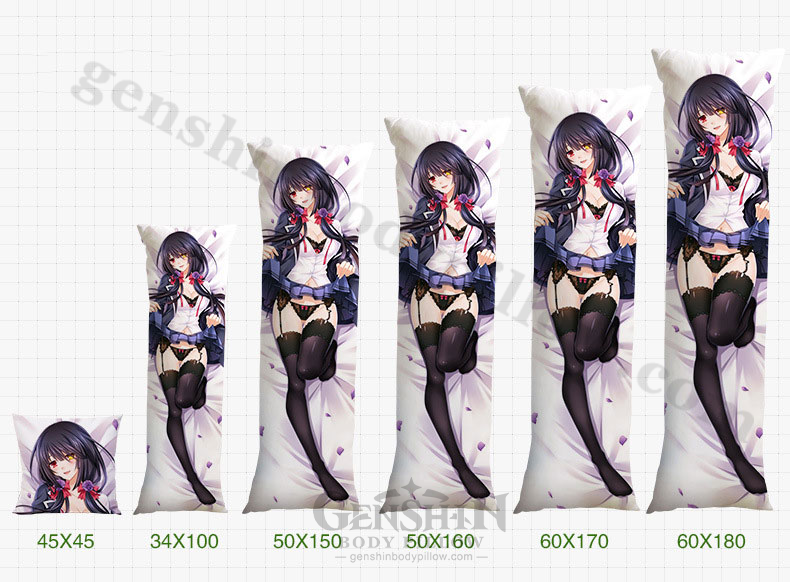 The 4×12 cm size is a dakimakura keychain, and the 45×45 cm size is a square pillow.
Pillowcase Fabric
The durability, touch, and pattern elegance of a pillow depend on its material, so it is very important to choose the right material that suits you. Common materials for personalized pillows include: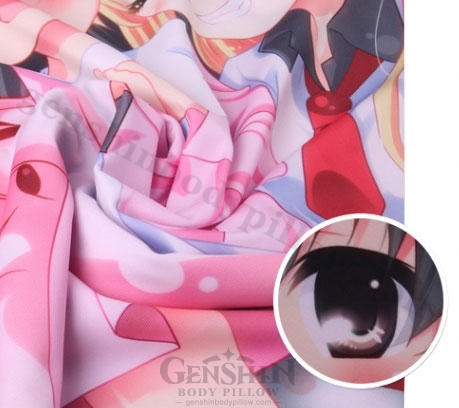 New 2WAY
Feel:★★★★★
Clarity:★★★★★
Elasticity/Stretch:★★★★★
Durability:★★★
The new 2way fabric is an upgraded version of 2way fabric. This material is more elastic than 2way fabric, and has a more delicate hand feel and is not easy to wrinkle.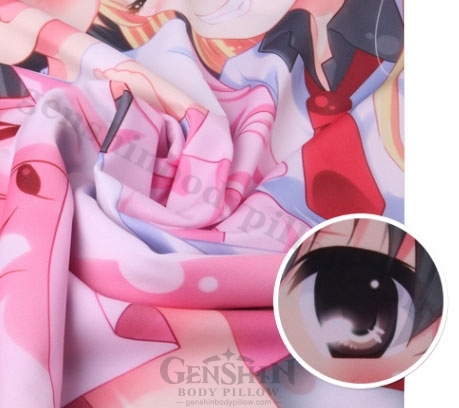 2WAY
Feel:★★★★★
Clarity:★★★★★
Elasticity/Stretch:★★★★
Durability:★★★
The advantage of 2WAY fabric is that it feels comfortable, and has good fabric stretch and elasticity. The disadvantage is that it is easy to pill and scratch, and you need to pay attention to contact with sharp or rough objects in daily use.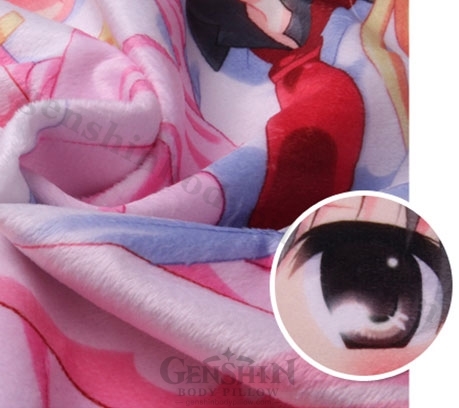 Plush
Feel:★★★
Clarity:★★★
Elasticity/Stretch:★★
Durability:★★★★★
The plush fabric has a layer of short fleece on the surface, which feels comfortable to the touch and is suitable for autumn and winter use; the disadvantage is that because of the presence of fluff, the pattern definition is not as good as other fabrics.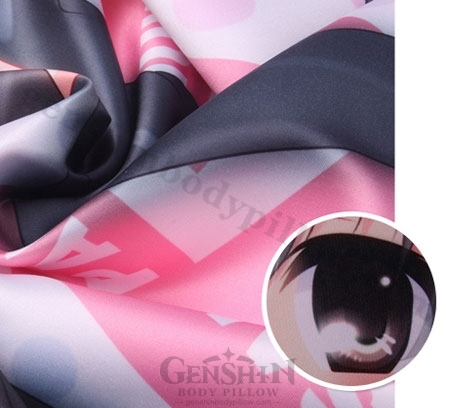 Peach Skin
Feel:★★
Clarity:★★★★★
Elasticity/Stretch:★★
Durability:★★★★★
Peach skin is a new type of superfine fiber fabric, with a delicate appearance and high cost performance compared to other fabrics, but the disadvantage is that it is easy to wrinkle and the hand feeling is not as good as other fabrics.
Purchasing suggestions:
If you have a lower budget and lower requirements for the fabric, it is recommended to purchase Peach Skin fabric pillow cases, which are cheaper in price.
For those with a higher budget, you can purchase New 2WAY fabric pillow cases, which have the best printing effect and touch, and are very comfortable to sleep with.
Purchasing 2WAY fabric pillow cases is the most cost-effective, the fabric is much better than Peach Skin, and the price is cheaper than New 2WAY.
Plush fabric pillow cases are suitable for the autumn and winter seasons, as they have a layer of velvet on the surface, making them warm to sleep with during the colder months.
How Much is a Body Pillow?
Pillows are priced according to size and fabric. For ordinary pillows, smaller pillows and Peach Skin fabric pillows are cheaper. Our special product dakimakura onahole is more expensive than ordinary pillows.